YOGA Accessories Round Yoga Mat
YP42MATXXXR6 - YAssoc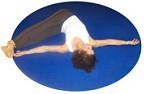 Product Feature

Recommended for yoga instructors or home practitioners
A spotlight for instruction; Great for Mommy and Me Yoga
6-foot diameter, circular shape
Extra thick at ¼ inch and comfortable

Great for your HOME practice.
Product Highlights
Yoga instructors: how great would it be to shine in a spotlight and teach in 360 degrees? Introducing the lily pad of yoga mats, This roomy 6-Foot Round Yoga Mat is one of a kind! We also highly recommend this mat for meditation, tai chi, and larger-bodied yogis.

This mat will keep you hygienically-sound vs. a standard yoga mat: feel free to reach and stretch out in public areas without touching the ground. The Round Yoga Mat is also perfect in your living room: you can actually complete an entire yoga DVD without having to readjust your yoga mat, as poses transition from side to side and forward to back.

Yoga Accessories' Round Mat is thicker, cheaper and larger (at a full six feet in diameter) than competitor's round mats. The round shape is also a much safer option in Mommy and Me classes, allowing you to place your little one safely next to your body as you move around and stretch.