Iron Goddess Oil Diffuser and Tealight Holder
6680-9789991491752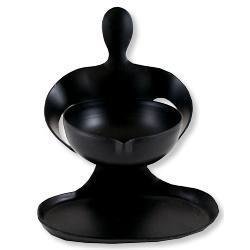 Tap into your inner goddess and infuse the room with healing scent! This contemporary and artistic accent be used as an oil diffuser or as a simple tealight holder. To burn oil, simply fill the bowl with water and add about 10 drops of essential oil. Place a tealight underneath the bowl, light, and enjoy! Or skip the oil and water and place a tealight directly in the bowl to create a soft atmospheric glow. Entire piece measures about 6 inches high, 6 inches wide, and 3.5 inches deep.
Goddess oil diffuser and tealight holder
Made of iron and other metals
Measures about 6 x 6 x 3.5 inches
Oils and tealight not included
This item may feature slight variations in color, details, and overall design.
This sturdy dual-function piece is hand-forged from recycled iron. In addition to burning aromatherapy oils, it can also be used as a candle holde, ring/jewelry holder, or for other miscellaneous items.